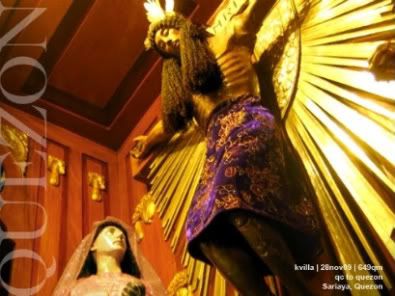 It's sunny and quiet this afternoon.
"Quiet" is relative. Occasionally, the sound of a tricycle's motor breaks the lazy, afternoon peace. The second hum of a plane above is fading away, a car passes at intervals. The only consistent noise is from the chirping of the birds above me in the yard, about three types of birds busy chattering the day away. I wonder, I've been missing the mockingbirds swooping down our cats. They've been absent, to my knowledge, for some two weeks now. And yes, the cats--Poochoot and Chingkwit are talking to each other just moments ago, wondering why I am where I am, between the Marcos mango and MJB lanzones trees.
I'm hoping by changing my location this afternoon, I am able to savor the peace, be one with birds chirping and, like them, catch some breeze. I'm using Writeroom for this, too. I haven't used this app for some time and today seems to be the best time for it. There's some getting used to writing on Writeroom, like the cursor placement, for instance. Otherwise, it's fine for days like these.
Unlike most people, like my relatives in the compound, we pretty much spend the Holy Week at home. It's actually something I look forward to. In the past years, though, the anticipation was mixed with anxiety especially because we had very little neighbors nearby and theft was prevalent on these types of breaks (the others being All Saints' Day and Christmas breaks).
This time of year, we would usually have Rudy, the extra hand, come around to help clean the garden. Rudy is now employed by the chapel a block away and can only spare time very rarely. If he wasn't around, the garden activity would be shared by my mother and I. This time, there's very little room for even a decent home clean-up because of deadlines that have piled up which I hope to tackle soon.
Vow/Pledge
When I turned off the computer at 1 a.m. today (Good Friday), the last thought I had was to not turn it on and just try to spend all Friday doing the
usual
stuff. Well, to "try to stay away from the computer", at least. Guess again.
Anyhow, it was an unbearable heat as 3pm approached. I maxed out what's left of the single-digit battery life and put the computer to sleep about an hour ago.
My grandmother always said that it will always be hottest at 3pm of Good Friday and she is almost always correct. ([Folk] Catholic) traditionalists equate this to a mortal's sacrifice which, by comparison, is miniscule to Christ's crucifixion.
For some reason or other, 3pm on Good Friday really is HOT, apparently more so because everywhere — whether in the city or in the provinces — is still. It's somewhat of a magic hour and the heat that envelopes around 3pm becomes mystical in that way.
In about an hour from now, I anticipate the neighborhood to 'come to life' as it were, and everywhere else within my radius will be back to business. Proof of this is the chatter emanating from our adjacent lot neighbor, newly moved-in and excited with what my 'hood has to offer.
Last night, Maundy Thursday, was like another ordinary evening for them. Anyway, I gave them that as I saw no reason to be grouchy on Holy Week and be the unwelcoming neighbor.
Changes
The changes in my neighborhood are not at all gradual.
We'd normally hear the faint, fleeting
pabasa
(the chanting of the Passion of Christ by devotees) from somewhere on cooler, still evenings like last night's. Last night, the local cheap bar a few blocks away was in operation and their patrons, torch singing their lungs out to the heavens, seem to have vowed to be the counterpart of Christ's scourges.
Another seeming unbeliever was the night guard on duty just by our gate, he with his radio and copious singing confidence who thought the quiet neighborhood he was tasked to watch over was his stage. Perhaps he was encouraged by the racket of my new neighbors. Perhaps he thought everyone else had escaped the city. Whatever it was, it sure was not entertainment. In the spirit of Holy Week, though, I thought of giving him a 'deadline', beyond which I sure would have stormed out of my gate in my jammies like I once did. Fortunately (for him), he turned the radio down and did shut up at 11pm.
Holy Week channel surfing treat: OnSet
Maundy Thursday and Good Friday early evening provided me with a bit more "self" time to channel surf local television stations.
I remember during the pre-cable days when all local stations were off (as in "offline", in computerese) and almost all stations were static that the only choices were black-and-white re-runs of
Moses, El Cid,
Cecil B. DeMille's
The 10 Commandments
or live telecast of church service of the Seven Last Words.
With cable services in the early '90s came 24/7 broadcasts of all sorts of programs.
Thursday and Friday this year, however, gave me a different treat. Since unplugging years of subscription to a local cable provider after a tragic event identified with its mother network (and availing of internet service anyway), we have had to content ourselves with shows on free channels.
The Holy Week (re)treat was by way of an information-rich program on Net25 called
OnSet: The World Class Filipino Artist
. The one-hour interview program features Filipino world-class artists hosted by Eunice Mariños and is recorded at the CCP's Tanghalang Aurelio Tolentino.
I'm not sure whether what I saw were re-runs but I pretty much didn't mind. I caught mezzo-soprano Clarissa Ocampo on Maundy Thursday's segment and Coke Bolipata earlier this evening, Good Friday. In between interviews were live performances ("impromptu," as the host said of one of Ocampo's performance), with piano accompaniment.
The show ends with the guests being asked about the artists' contribution or role to society.
I find
OnSet
very refreshing in the midst of the predictable telenovelas, repetitive game show formats, shallow gossip programs and party-themed screaming competitions that purport to be variety entertainment shows on both major networks.
In fact, I thought these major networks would be the ones supporting the arts in a big way by coming up with something like Net25's
OnSet
, even if it meant hard selling the idea to sponsors to make it viable, but no.
Eunice Mariños at least gives its guests time to answer good questions no matter how formatted. In comparison, many hosts of interview shows, especially celebrity hosts, are always self conscious and draw attention back to themselves instead of giving their their guests the limelight or allowing them to finish their statements.
Mariños could, however, do with a little more mature way of handling her interviews by sounding less like a high school student — sometimes flustered, sometimes excitable — and more like a poised, generous host (a fine example is Boots Anson-Roa). If Mariños does find the chance to enroll at Clarissa Ocampo's voice seminars as she said she would, I believe it would do her a lot of good.
Too bad
OnSet
ends without the usual closing billboard as I wanted to catch the pianist's name, the show's director, set and lights designers, writer, and other credits.
Otherwise, the early evenings of Maundy Thursday and Good Friday spent watching the two artists on
OnSet
was
kind of
spiritual in a self-respecting kind of way. I came back to the computer writing this with renewed Filipino pride.